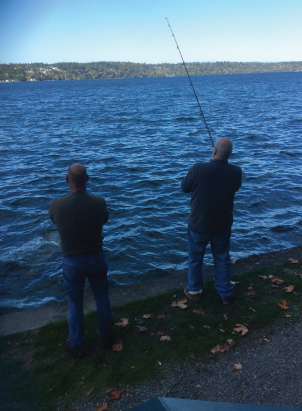 Gone Fishin'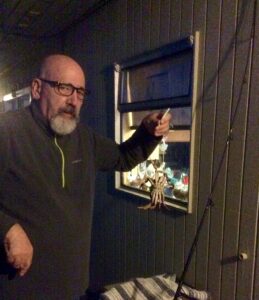 Went fishin' once.  Didn't catch nuthin'. Now we live fifteen feet in front of Colvos Passage, a body of water that's part of Puget Sound. It's like living in front of a stocked pond–sea lions, Orcas, seagulls, blue herons, and fish fish fish.So I bought me a fishin' outfit. Last night one
fish after another kept biting and biting but the only thing this inexperienced angler caught was a crab. A huge, lumbering sea lion was messing with my catch, so, no fish last night.
Today was a different story. Tide was in about 11a.m. so out I went. My friend Jim came by to see how my fishin' was going. As soon as I cast, FISH ON!!!!  and then reeled in a 14″ Pink Salmon. Jumping up and down, yelled for Susan, we didn't even know how to put the poor thing out of its misery. We do now. Next cast, and FISH ON, a five pound honking hunk of Silver Salmon grabbed my Buzz Bomb, I grabbed on, and when it got close, Jim waded down, told me it was too big to pull up, and in true fisherman camaraderie, jumped right in in his shoes, waded down to his knees, and did everything he could. My first, "one that got away" story. Seriously, it was big. Now I'm stoked.
We had the fish for lunch and it was tasty. Susan says I have to learn how to take care of business once the fish is dead and out of the water-guttin' and cleanin'  and fryin', and scalin'. I thought once the fish was on land, that's when she took over. Guess I was wrong. This retirement thing keeps get thing better every day.