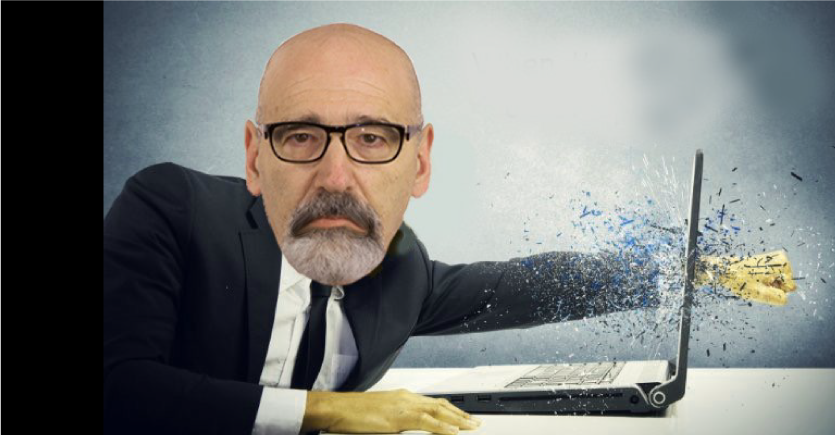 GETTING IT DONE
I have been writing for years, using Works, Word, Apple Works, Google docs, open source, and more—for business and personal use, to write letters, ads, lesson plans, and all the rest. As Word became the preeminent word processing application over the years, starting out with just a few thousand commands, adding thousands more through upgrades, things became more and more complicated. Like so many Word users, I am self-taught, and there's the rub. I am good at what I know, but have not progressed much past the few thousand commands I first knew, and to this day, still rely on. I do love all the modern conveniences of an electronic word processor, and I cannot imagine ever writing in long hand again.
Every time there is an upgrade, I am again forced to learn new commands. Often, when working on a new project, I need to remind myself of something I have not used for quite a while, inevitably forgotten, and then must teach or reteach myself—and the forgetting keeps getting worse. But there is a point to this tale of computing woe, and a happy ending—not that kind Jay.
When you are manipulating words for a book, at 100, 200, 300 or 400 pages or more, and you cannot remember how to set page breaks, and how they must work in conjunction with pagination, and margins, and a variety of other formatting tools, including headings, while trying to save time establishing a consistent format using the styles pane—an aging brain can hit the wall. After trying to gain as much as I can from YouTube instruction, and a variety of other online help pages, I am ready to punch out the computer, and continue on with what I love to do most—create.
All of this changed last year when I discovered outsourcing companies, to format my projects, every time I write anything longer than a letter. I've known about these kinds of companies for years but did not think to explore an area of expertise for writing. As most people probably know—leaving me far behind—these companies are now everywhere, offering competitive services in just about any category of business you can think of.
So, I tried Fiverr. For fifteen dollars, I found an extraordinary service provider, who formatted a 250-page book for me. He had it done in less than a week, and with every suggestion I made—and there were many—changes were made almost immediately. It was perfect. I asked him to prepare it as a standard Word document for sending to an agent or publisher, and as a document, ready to send to a POD (print on demand) companies like KDP, Lightening Source, or Ingram Spark.
In the past few months, I have also hired him to format a very complex book for every electronic format, that included 155 pictures in addition to the 110,000-word text—it is perfect. Jump, a memoir, in both print and eBook format, will launch in early September.
But that is far from the end of the story. My service provider, Ajmal Mamoon, lives and works in Islamabad, Pakistan. He has become much more than a business contact half a world away. Seldom have a I met someone as kind, humble, considerate, and skillful, to do whatever a client asks to get a job done. After numerous contacts, we started getting to know one another on a more personal level. He is a devout Muslim, and from all our communications, I can tell he truly practices his beliefs. At first, I did not know what to make of all his thoughtful and generous remarks, wishing me the best of both worlds, all based on the love of his religion, not once proselytizing. I never doubted his sincerity or convictions or his best wishes and desire to make me happy.
When I needed to have a new website, Mamoon recommended a company called Sixdees, also based in Islamabad. The website was a huge undertaking, and this company was just a start up. They did not realize how involved the effort would be, but never questioned or reneged on the initial estimate. By the time the site was done, it was obvious he had way underbid. I was delighted to greatly increase their fee. I hope you can see why I am very happy with the final site: http://www.vagabondlibraraian.
Both SixDees and Mamoon's company, Concept Seekers, are highly skilled, and if you need their expertise, I would recommend them without reservation,
Ajmal's Mamoon's services include:
Book formatting, typesetting, and interior layout designs for all sorts of print books and ebooks (mainly, memoirs, novels, poetry books, children's books, cookbooks, academic books, workbooks, planners, low-content books, and other fiction and nonfiction books)

making the books publishing ready for all publishing platforms like amazon kdp, Barnes and nobles, kobo, Ingram spark, lulu, Smashwords, etc.

Book cover designs for both ebooks and print books (paperback and hardcover)

Rectification of any issues in files made in InDesign or Word or any issues related to formatting or publishing.

brochures, flyers, and banner designs.
Concept Seekers
Ajmal Mamoon
Email: mamoonajmal1997@gmail.com
Whatsapp: +923474505711
Website Design
SixDees contact information is:
Hamza Ahmad
 H59V+R7Q, Block C
Naval Anchorage, Islamabad,
Islamabad Capital Territory, Pakistan